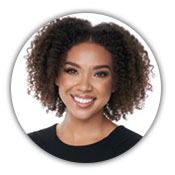 As a second-generation Realtor, Sydney grew up in and around the real estate and building industry. She specializes in residential buying and selling with an emphasis on new construction properties.
Sydney's achievements include working with her family on buying and selling properties and collaborating with new construction developments to create new and unique experiences for relocation clients.
When it comes to Temecula real estate, Sydney admires the city's continued growth and development and how it preserves a small-town feel.
Sydney says, "I am certain that the Temecula Valley has everything that anybody could ever need in a home, and that's what I love about the city—its abundance in charm and friendly fun neighborhoods."
When it concerns her clients, Sydney believes in a philosophy of transparency. She says, "I feel creating something of value has to lead first with integrity, which then creates a solid foundation to do great business together."
During her spare time, Sydney can be found traveling, soaking up the sun on the beaches of Southern California where she was raised. Sydney works closely with the charity organization The Breakfast Club, volunteering in Ethiopia and Costa Rica to break the cycle of poverty.