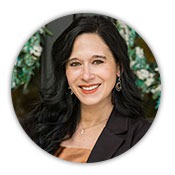 Courtney is an honest, hardworking, outgoing, fun-loving wife & mother of six kids! Yes, you read that right...she has SIX kids (21, 19, 19, 16, 15, & 14)! Courtney has a love for all things REAL ESTATE related! She has plenty of personal experience with real estate too. Courtney not only moved a lot growing up but also as an adult too...buying & selling homes (and even flipping a home herself). She can confidently provide you with truly honest service and help you through the home-buying and home-selling process from start to finish. She has lived in KS, WA, CA, OH, TX, and CT.   
Need a referral out of CA, no biggie...Courtney can help you with that too!
In Courtney's spare time, she enjoys mommy blogging and spending quality time with her family. Courtney is very much a "people person" and can't wait to help sell the home you're currently living in and also help you find the PERFECT home too.