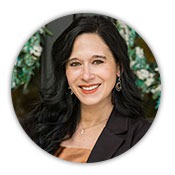 Courtney is an honest, hardworking, outgoing, fun-loving wife & mother of six kids! Yes, you read that right...she has SIX kids (21, 19, 19, 16, 15, & 14)! Courtney has a love for all things REAL ESTATE related! She has plenty of personal experience with real estate too. Courtney not only moved a lot growing up but also as an adult too...buying & selling homes (and even flipping a home herself). She can confidently provide you with truly honest service and help you through the home-buying and home-selling process from start to finish. She has lived in KS, WA, CA, OH, TX, and CT.   
Need a referral out of CA, no biggie...Courtney can help you with that too!
In Courtney's spare time, she enjoys mommy blogging and spending quality time with her family. Courtney is very much a "people person" and can't wait to help sell the home you're currently living in and also help you find the PERFECT home too.
Testimonials
Courtney is absolutely amazing! She has and goes above and beyond to help her clients with whatever they may need. She's an amazing advocate for first time home buyers (like myself) and provides the most up to date information for any new listings, walk-ins, etc. She treats her clients like family and is so considerate to her clients wants/needs. Highly highly recommend her for either buying, selling, etc!
Julieta Rios
Very attentive to our needs. A delightful and energetic personality. She was always available when needed and seemed very knowledgeable in the real estate business.
Ofelia & Salvador Guillen
We were lucky to work with Courtney Birtell, who helped us selling our house. She was extremely helpful and reliable through the whole process. Always available and super friendly. A pleasure to work with her.
Petronela Des Vignes
Courtney is amazing to work with! She helped us find and close on our dream home in less than 30 days. Prior to working with Courtney, we worked with two other agents over the course of many months without any luck, however, as soon as we got in touch with her it was a total game changer! She made us feel like we were always her very top priority. Courtney is delightful and has great relationships with other agents, plus, she has an awesome referral for just about everything you need related to your home! We found out this was very important to navigate the home buying process smoothly. I would recommend working with Courtney over anyone else, and I very much hope to work with her again in the future.
Monika Megenney
Courtney was such a wonderful asset during our listing/selling process! She advocated for us with our Buyers lender whom she didn't have to or need to help with. She made our process as seem less as she possibly could. We have purchased and sold before and we're in wonderful hands with Courtney.
Serena Riordan
More Testimonials